Santa Is in for A Treat this year !
& Little does he know this sweet treat may help him with that Holly Jolly Belly of his as well
So this y
ear skip the cookies and opt for a creamy, festive peppermint fudge that Santa and all his reindeer will be sure to thank you for. And as always it is Stevia&Spice approved
5 MINUTE EASY PEPPERMINT FUDGE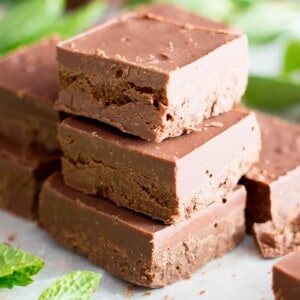 5 Minute Easy Peppermint Fudge: a 3 ingredient recipe for creamy, thick, indulgent chocolatey fudge squares made with healthy ingredients! Takes just 5 minutes to prep, the rest is just freezing time!
INGREDIENTS
DO THIS
Line an 8-inch loaf pan with parchment paper or wax paper. Set aside. Clear some space in the freezer for this pan—you will need it later.
Use the double boiler method or do the following: Add chocolate chips and almond butter to a medium, microwave-safe bowl. Heat in 20-second increments until chocolate is softened and melty. Stir in between heating increments, until smooth and well incorporated. Stir in peppermint extract. Melted chocolate will begin to clump up. Stir until smooth, and no clumps remain.
Pour this mixture into the prepared loaf pan. Using a rubber spatula, smooth into an even layer. Tap the pan to help smooth it out.
Transfer pan to freezer. Freeze for 40-60 minutes or until completely firm. Remove from freezer and slice into 18 squares. Enjoy! Storing instructions below.