I had made my list,
Checked it twice
making sure to include my "Wellness wants" so other's would know just what to spoil me with this year,
I mean I have been nice all year haven't I?
Yet each item I included didn't really capture my true want.
The one that I had hoped for, and spent all my Christmas wishes on,
the one that was near impossible
My little sister home for Christmas.
It Had been two long , longggg years since I had seen my best friend, my hippie soul and the source of my constant laughter. New Zealand was too far away.
This wish seemed like a fairy tale, until that snowy Decemeber Thursday when I walked into my living room to see my Christmas Miracle.
My little sister standing there, in her favourite flannel and beautiful long dreads ( paying more attention to the dog than me might I add)
This is truly going to be the best Christmas & In honour of her unexpected return I decided to DEBUNK one of her favourite treats to keep everyone Stevia&Spice approved this holiday
Nanaimo bars
VEGAN NANAIMO BARS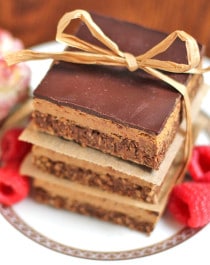 INGREDIENTS:
CRUST:
FILLING:**
CHOCOLATE LAYER:
DIRECTIONS:
FOR THE CRUST:
Preheat the oven to 350 degrees Fahrenheit and line an 8″ brownie pan with parchment paper both ways.
In a large bowl, stir together the oats, coconut, cocoa powder and salt.
Stir in the nut butter, aquafaba and ghee, then the optional nuts and ingredients (mixture should be soft yet thick cookie dough).
Press mixture into the prepared pan and flatten. Dock the crust every inch or so, bake for ~22 minutes, or until firm to touch. Let sit on the counter while you prepare the rest of the recipe.
FOR THE FILLING:
In a large bowl, whisk together the almond milk, nut butter and extracts.
In a small bowl, whisk together the powders and custard powder. Dump into the wet ingredients and fold together (mixture should be very thick, like cookie dough)
Scoop over the slightly warm crust and flatten.
FOR THE TOPPING:
Add the chocolate to a small, microwave-safe bowl. Microwave at 30-second intervals, stirring between each one, until melted. Or use double boiler if available
Stir in the coconut oil, then stir in the stevia extract.
Pour over the filling layer and tap the pan so that the chocolate spreads to all the corners of the pan. Refrigerate for 1-2 hours, or until chocolate is just set.
Take the pan out of the fridge and slice into bars.
NOTES:
**If you don't have the custard powder, this is the filling I recommend: